Jeff is co-founder and 'head honcho' at Blue Train. Previously he was Marketing Director for First Data's international business, establishing innovative brand and market entry strategy for its Clover and Merchant Solutions business.
His marketing and journalistic skills come together in many of Blue Train's creative projects from branding to video production and podcasts. When he is not leading from the helm at Blue Train Marketing, he can be found taking the office dog George down the allotment to tend to his asparagus patch.
Blue Train co-founder, Sarah has deep global expertise in delivering lead- and sales-generating, on- and off-line, B2B and B2C marketing and communications solutions to SMEs and corporates across multiple sectors including gaming and automotive to financial services.
Sarah's strong journalistic background often comes in handy when Blue Train clients need services beyond traditional marketing. When she is not dealing with the daily company operations, Sarah can be found chilling out with her favourite cocktail - obviously a Blue Train!
Carly ensures a cohesive employee experience, leading the delivery of employee data, compensation, talent management and workforce engagement.
Having recently led a multi-million pound global HR Transformation Project, and with a wealth of knowledge and experience around the impact of mindset and mental health in the workplace, we know wellbeing is at the top of Carly's priority list! Her favourite hobbies include large glasses of white wine and curling up on the sofa with a good movie.
Kain is our SEO genius. He specialises in on-page SEO and content strategy for fintech - which is another way of saying producing high-quality, relevant content that brings traffic and leads. He is also proficient in technical SEO and backlink outreach.
Kain lived in China for five years and speaks Mandarin. In his free time he likes going to the gym whilst also listening to SEO podcasts ("he says don't include this 'so also gets a mental workout' joke" - Ed.).
Naiyan is focused on assisting with the PPC and SEO activities, monitoring campaign performance while analysing data for any key insights.
Using our competitor research process, Naiyan deep-dives into competitor PPC activity while keeping an eye out for any potential opportunities. On the flip side, Naiyan optimises blog content for on-page SEO, following best practices that Google loves. He also assists with off-page SEO, identifying backlink opportunities to boost our client's rankings on Google.
Mia's day-to day tasks include writing engaging content, social media planning and management of email marketing campaigns. Mia's previous experience of managing social media through her university makes her well equipped to support our digital marketing efforts across all channels. Mia can often be found with her head in a book on history.

George is a valued member of the Blue Train team. He is a cute and mischievous Cocker Spaniel who will give you a warm welcome if you visit our office. He still has a limited knowledge of fintech and payments, but can often be found hanging out with Blue Train's CEO and COO. He is rather partial to a walk and ball throwing.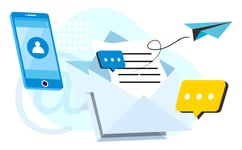 Ready to talk

?
Let's have a chat about your marketing needs.

.