3 Key Takeaways from Money20/20 Europe
It's a wrap! Money20/20 Europe 2023 is over for another year, but we're here to share our three key takeaways from the event to provide an overview of how the industry is shaping up.
In this blog, we'll examine the convergence of AI and blockchain, how the true potential of open banking can be realised and the advent of a tech-driven focus for fintech marketing.
1. AI & Blockchain will empower the future of payments
AI and blockchain's crucial role in shaping the future of payments was one of the hottest topics to come out of the event.
A panel titled 'Crypto & Beyond: The Future of Payments' featured David Birch, Sendi Young and Myles Stephenson, who collectively shared their predictions for what's to come.
The panellists discussed how blockchain technology eliminates the need for intermediaries in asset transactions, enhancing efficiency and cost-effectiveness. They stressed the importance of integrating new technologies seamlessly with existing systems, and to focus on their unique capabilities instead of mirroring the constraints of conventional systems.
While blockchain hasn't transformed every facet of finance, it's garnering significant investment and development, notably from traditional financial institutions.
Sendi Young, Europe & UK Managing Director at Ripple, spoke about blockchain's two main aspects: digital assets and tokenisation, and payments and currency. The growing tokenisation of assets was a focal point, with a bold prediction that by 2030, 10% of the world's GDP will be tokenised.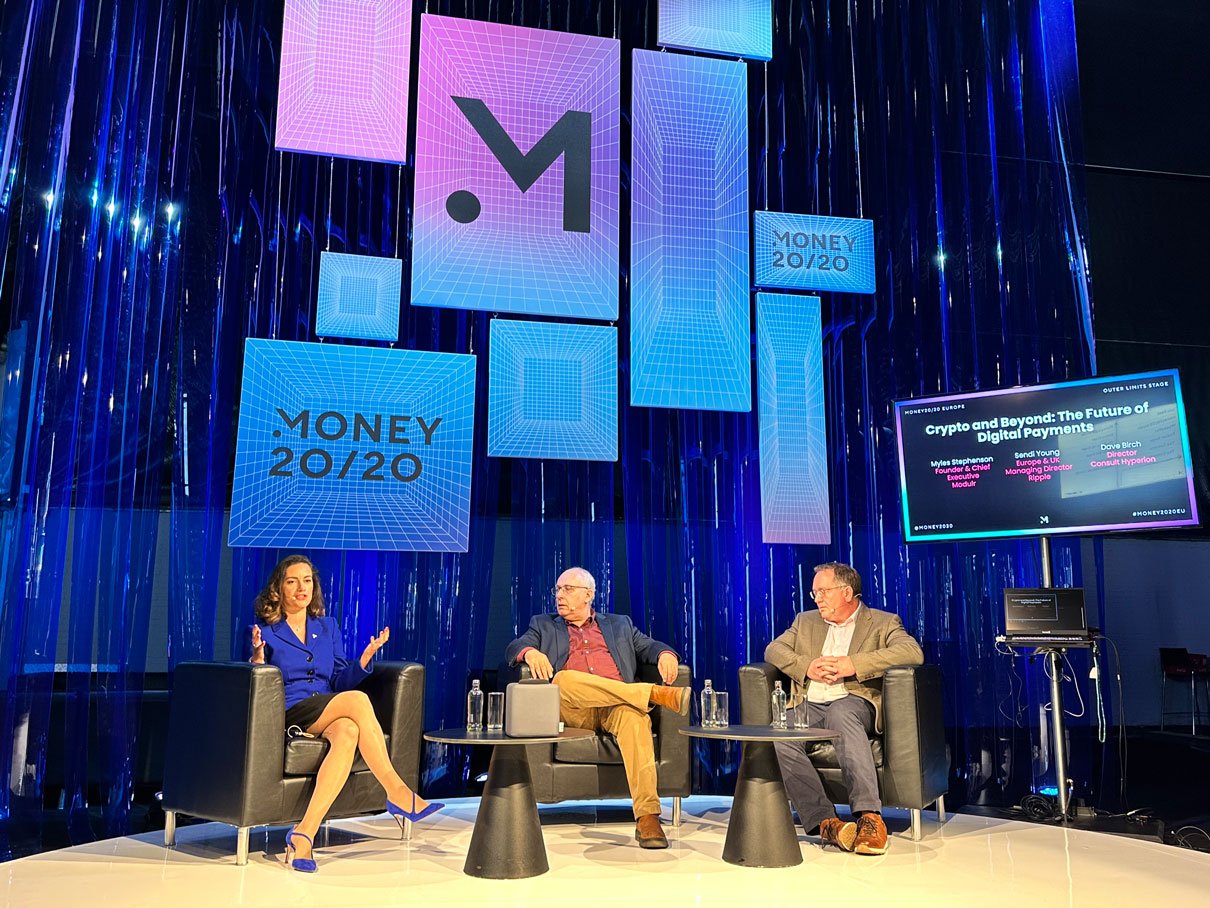 According to Sendi, '[blockchain] is going to address a lot of pain points for cross-border payments, whether it be in speed, efficiency, transparency or certainty of payment'.
However, David Birch, Director at Consult Hyperion, stated his firm belief that 'the most disruptive technology is not blockchain, it's not open banking, it's not anything like that. The most disruptive, by a mile, is AI'.
David shared his vision of a very possible future where financial services target bots more than humans, leading to an exponential increase in transaction numbers and complexity.
As transactions evolve to be more machine-to-machine, their speed and complexity will skyrocket. David believes that AI will play a crucial role in managing these complex transactions and record-keeping, and that transparency will become the market differentiator.
Sendi believes that the fusion of blockchain with AI, 5G, and spatial computing will be a game-changer for the industry.
2. UX & Trust are key to the adoption of Open Banking payments
Achieving a mass adoption of Open Banking payments was discussed throughout the event with insights from Rabobank's Nico Strauss shining a light on two areas that are key to unlocking consumer interest.
The success of Open Banking hinges on the user experience and trust.
Nico stressed that 'Open Banking needs to have a beautiful user experience; it needs to be accessible. Access to the product, setting it up, and testing it should all be a seamless process for the user. This is a departure from the traditional banking model, which often prioritised the back-end experience over the user experience'.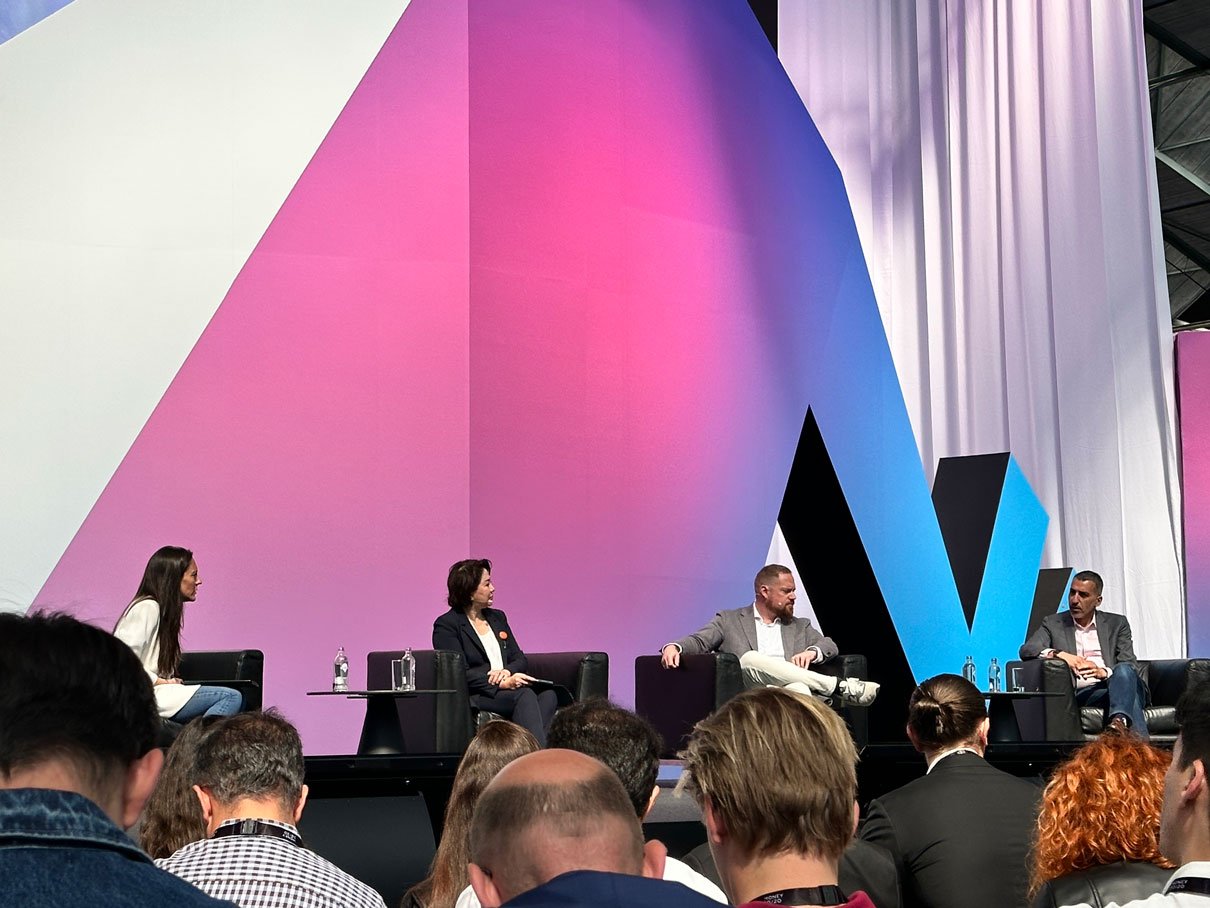 The importance of trust cannot be underestimated, particularly when it comes to data usage. Regulation can help build this trust, especially when it comes to open banking and the application of AI.
However, Nico feels that banks and financial institutions should go above and beyond regulatory requirements, particularly in areas like data protection. Nico's suggestion is that 'regulators need to be more proactive in working with the industry'.
Rabobank has introduced a data manifesto that asserts that data is owned by the customer. This principle guides the design of solutions that benefit the customer.
3. A tech-first approach for the future of fintech marketing
Fintech marketing is experiencing a paradigm shift, as highlighted by the debut of the first ever CMO session at a Money20/20 event. The panel 'Marketing on a Changing Frontier: CMO Strategies to Succeed' brought attention to technology being at the forefront of future marketing strategies.
Payal Raina, Founder of Fintech B2B Marketing, believes that the term Chief Marketing Officer (CMO) is evolving into Chief Marketing Technology Officer, signifying the integration of technology in marketing.
AI technology has the potential to assist in localising copy for specific regions to empower marketers to effectively reach a global audience and streamline operations. ChatGPT is recognised as an efficiency tool, but the panellists highlighted that the adoption of AI-generated content is not without risks; issues like plagiarism and SEO rankings are of a concern.
Andrea Linehan, CMO at Zai, urged marketers to understand the impact of ChatGPT on customer behaviour instead of just focusing on its internal use. However, Andrea emphasised that 'search engine marketing will change eventually, but it's still Google. That's where everybody's hanging out'.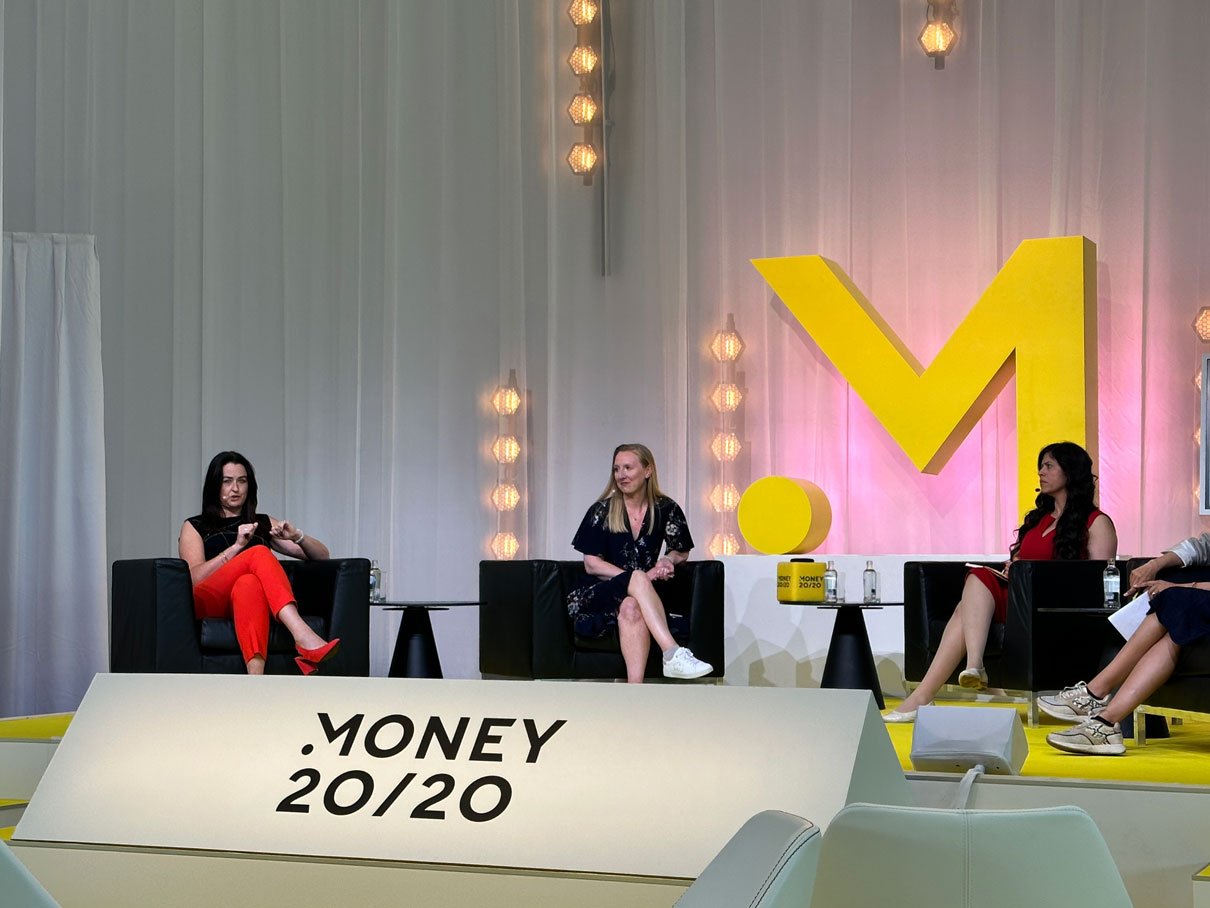 Lucy Heavens, VP Marketing at Hokodo, has seen a transition from lead generation to demand generation, with an emphasis on creating demand and educating customers over merely gathering leads.
Personalisation is the determining factor of success for demand generation. Targeting highly specific audiences with generic content is a mindset that fintechs must avoid. Marketing messages must resonate with targeted audiences by directly addressing their unique needs and acknowledging specific pain points.
Lucy also highlighted the importance of reporting on the right data - 'Marketing professionals must align their language with CEOs by focusing on bottom-line metrics over vanity metrics and should arm themselves with robust data to bolster marketing strategies'.
Conclusion
The synthesis of AI and blockchain is gearing up to overhaul payments, unlocking efficiencies and scalability. The flourishing open banking ecosystem underscores the necessity of an exemplary user experience anchored in trust.
Fintech marketing is witnessing an evolution pivoting towards a tech-centric approach that encompasses AI, metrics that matter and personalisation.
Money20/20 Europe has once again proven itself as an indispensable platform for driving these debates and discussions. By bringing together industry pioneers, thought leaders, and innovators under one roof, it has fostered a breeding ground for revolutionary ideas and provided a peek into the future of fintech and payments.
If you're curious to know what the event looked like this year, be sure to check out our video snapshot below: