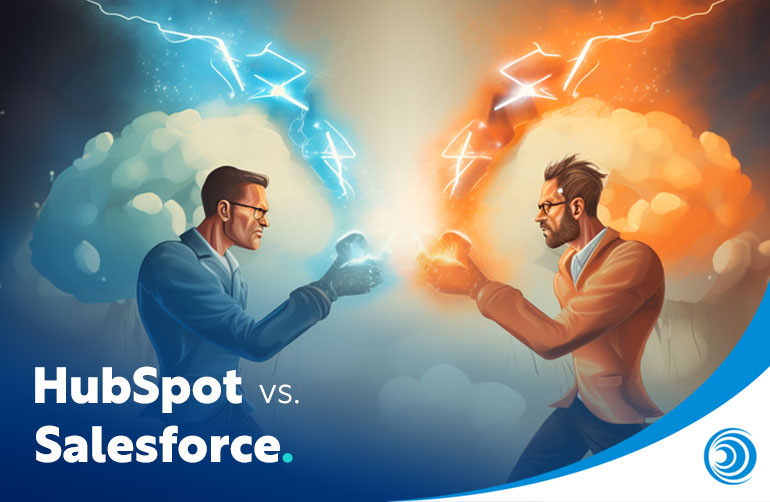 HubSpot vs. Salesforce: A Comprehensive Comparison
Customer relationship management (CRM) and marketing automation platforms play a key role in enhancing customer interactions and driving growth. Salesforce and HubSpot are two stand out names.
In this blog, a comparison of the two platforms can help you make an informed decision about which platform aligns better with your business needs.
An Overview of Salesforce and HubSpot
Salesforce, founded in 1999, is a pioneer in CRM and cloud computing. It is a platform that caters to businesses of all sizes, with a strong focus on sales, service, and marketing automation.
On the other hand, HubSpot, emerging in 2006, redefined inbound marketing and presents a comprehensive all-in-one package, tailored to suit the needs of scaling businesses with their sales, service, marketing, and content management.
Key Features and Capabilities
1. CRM Functionality
Salesforce's CRM suite resonates with complexity, ideal for large enterprises navigating intricate sales cycles. Lead and contact management, opportunity tracking, and data organization form its core strengths.
HubSpot's CRM caters to small and medium-sized enterprises. Contact and lead management, email tracking, and seamless integration with other HubSpot tools forge a user-friendly path.
2. Marketing Automation Tools
HubSpot's prowess shines through its marketing automation tools, offering intuitive avenues for email marketing, lead nurturing, analytics, and campaign management. Tailored for businesses seeking to capture and engage their audience.
Salesforce's Marketing Cloud boasts marketing automation capabilities, tailored for larger enterprises that demand comprehensive solutions.
3. Sales and Pipeline Management
Salesforce's Sales Cloud emerges as a powerful tool for managing intricate sales processes, deal tracking, and sales projections. Advanced reporting and analytics elevate it as a data-driven decision-making tool.
HubSpot's Sales Hub streamlines the sales operations, featuring email tracking, deal management, and task automation. Ideal for those seeking simplicity and efficiency.
4. Customer Support and Service
Salesforce's Service Cloud excels in customer support with features like case management, self-service portals, and AI-powered solutions for prompt resolutions.
HubSpot's Service Hub crafts a seamless customer experience through ticketing, knowledge bases, and avenues for customer feedback.
"Service Hub customers see their ticket close rate increase by 31% on average after 6 months."
5. Ease of Use and User Interface
A hallmark of HubSpot is its user-friendly interface and intuitive design, which appeals to users of all technical backgrounds. Administrators gain valuable insights into their business's overall health through its extensive reporting and automation capabilities.
In contrast, Salesforce offers its users powerful and extensive customisation options for reporting. However, mastering these features requires time and training, making the setup and administration process more challenging compared to HubSpot.
6. Integration and Customisation
Salesforce's versatile AppExchange offers third-party integrations and customisation options, making it ideal for businesses seeking bespoke solutions and intricate integrations.
However, implementing and maintaining Salesforce demands experienced and well-trained administrators. Many Salesforce customers find themselves needing to engage consulting agencies, hiring full-time admins, or training current employees to manage Salesforce.
In contrast, HubSpot's ecosystem fosters seamless integrations while maintaining simplicity, catering to those who prefer streamlined setups.
HubSpot's approach prioritises ease of use and simplicity for administrators, representatives, and managers alike. This emphasis ensures that you save time and money during the CRM setup process. Customers have the freedom to organise and administer their CRM without the necessity of hiring a dedicated admin.
For businesses needing a more sophisticated approach, custom objects allow for flexible and intuitive CRM architecture, tailored to your specific needs. Moreover, importing third-party data into your CRM is a breeze.
7. Pricing and Scalability
Salesforce's pricing might lean towards the higher end, particularly for advanced features, making it better suited to larger enterprises.
When calculating the total implementation cost of Salesforce, it is important to consider the fees associated with customisations and add-ons. Larger organisations with more users often require specialised features, leading to higher expenses for the software.
HubSpot's tiered pricing models accommodate small to mid-sized businesses more affordably. And its scalability makes HubSpot the ideal choice for businesses in growth phases, offering plans that evolve with your business's needs.
Although multiple licenses are required for the higher pricing tiers, the software follows a "freemium" model to provide reasonable prices to suit different organisation types.
For more price comparison information, visit HubSpot's page on Salesforce vs HubSpot.
8. Customer Support and Resources
Both platforms offer comprehensive customer support, enriched with documentation, active community forums, and abundant training resources.
HubSpot is committed to your business success, providing top-tier support and customer success teams to all customers, including unlimited phone and email support for Pro and Enterprise Hubs. As you scale, support remains cost-free, and HubSpot Academy, an online learning platform, is also accessible for free.
Conclusion
Salesforce and HubSpot both offer strong tools for enhancing operations and nurturing business growth. By examining the unique qualities and strengths discussed in this comparison, you're equipped to choose the option that best aligns with your business's specific requirements and goals.
When it comes to CRM, Salesforce is seen as the go-to for larger organisations with complex sales cycles. HubSpot, on the other hand, is your friendly solution, perfect for small to medium-sized businesses.
HubSpot excels in marketing automation, its intuitive tech integration helps businesses manage emails, nurture leads, and keep on top of what is going on. In contrast, Salesforce's Marketing Cloud is more like a comprehensive toolkit designed for the larger players.
The pricing for Salesforce is tailored for large companies, while HubSpot has different pricing levels designed for small to medium businesses. It all comes down to what your business needs and where you're headed!
Our passion for HubSpot stems from witnessing how it delights our clients. As a HubSpot partner, we value its agility, enabling us to seize new campaign opportunities in the ever-changing business landscape.
Contact our team and set up a call to discuss the possibilities with HubSpot.