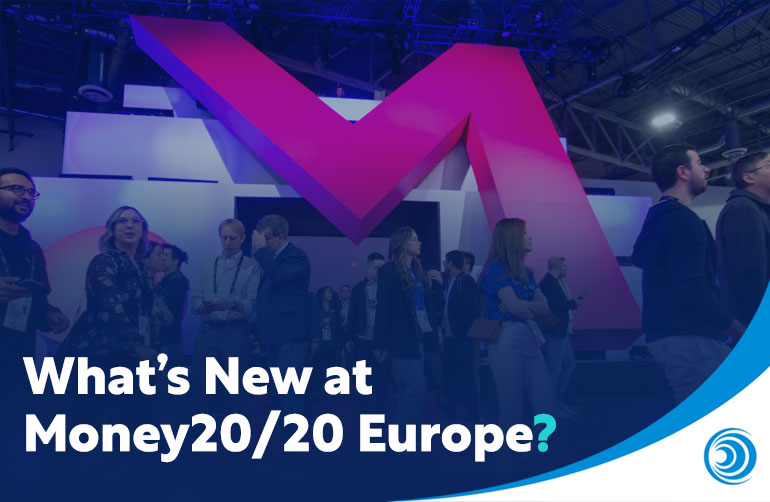 What's New at Money20/20 Europe?
Money20/20 Europe is one of the largest fintech events in the world.
With over 7,500 attendees and 350+ industry expert speakers, the event gathers emerging visionaries and established veterans to showcase the present and future of the fintech, payments and financial services innovation.
The event features sessions from industry leaders covering a wide range of topics, from open banking to crypto regulation, payments innovation, banking, cybersecurity, fraud, and much more.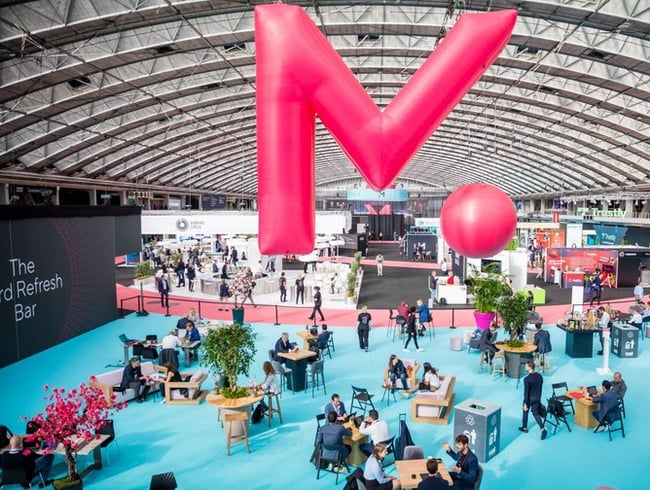 Money20/20 provides an invaluable networking experience for its visitors, allowing them to forge meaningful connections and offers a chance to see start-up pitches that offer a glimpse into the latest ideas shaping the future of finance.
Key Discussions from Last Year
Stripe and Wise Join Forces: Empowering Open Banking
John Collison, Co-Founder and President of Stripe, announced their partnership with Wise for delegated authentication, a feature that streamlines transaction authentication for customers reducing friction and enhancing the user experience.
However, experts emphasised the need for further execution and improvements to make open banking truly worthwhile.
El Salvador's Bitcoin Leap
Cryptocurrency was another prominent subject.
The decision by El Salvador to accept Bitcoin as legal tender drew attention and raised questions about its potential impact on financial stability.
Industry leaders, including Peter Smith, CEO & Co-Founder of Blockchain.com, discussed the importance of establishing rules and regulations to protect citizens and mitigate illicit activities.
Despite concerns, experts like Anne Boden, Founder & CEO of Starling Bank, expressed optimism that with enhanced regulations and safety protocols, the focus could shift back to promoting the technology while ensuring user safety.
What's New This Year?
Generative AI Reshaping Fintech
Artificial Intelligence (AI) is at the forefront, presenting significant opportunities in fintech. Attendees can expect insights from Citi Group on how generative AI is revolutionising financial services.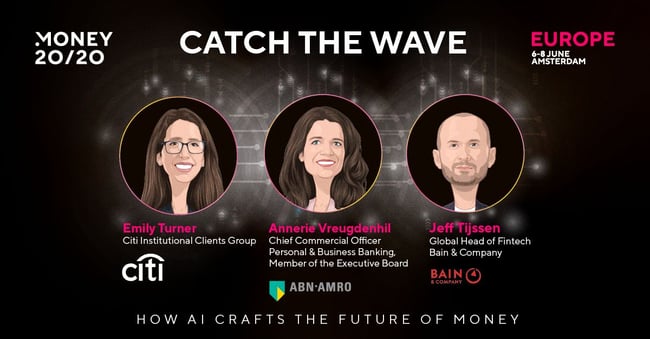 The conference will delve into the implementation of high-risk AI models for transaction monitoring and fraud detection. Exploring the role of AI in the industry will provide a comprehensive understanding of its impact and potential.
Industry experts from Swift, BBVA and Nvidia will be sharing their insights on how banks and fintechs can implement generative AI into their services.
Exploring the Future for Blockchain & Crypto
Blockchain and crypto remain on the agenda, with many panels planning to debate what the future holds for the regulation of crypto and what it will take to restore confidence and drive adoption among merchants and consumers.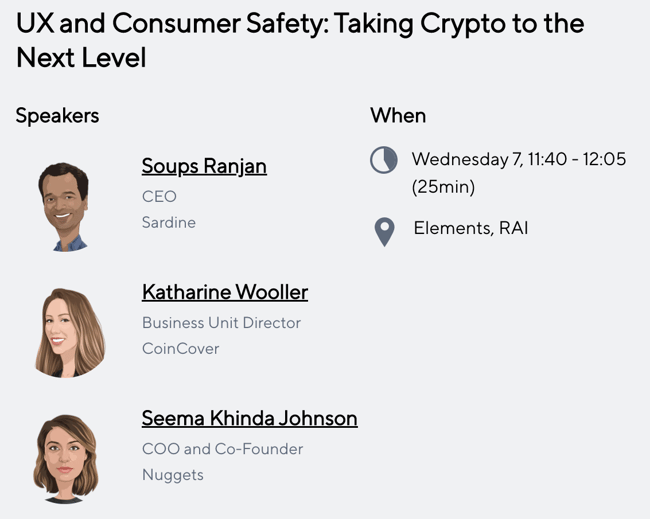 On the 7th June, speakers from Sardine, CoinCover and Nuggets will take to the stage to explain how they are tackling the challenge of providing smooth and efficient user experiences without sacrificing robust security and consumer protection.
CBDCs: Entering the Era of Digital Currencies
Over 110 countries are now exploring digital currencies.
As the list of governments investing in research and pilot programmes for CBDCs (Central Bank Digital Currencies) continues to grow, so do the questions from businesses and consumers.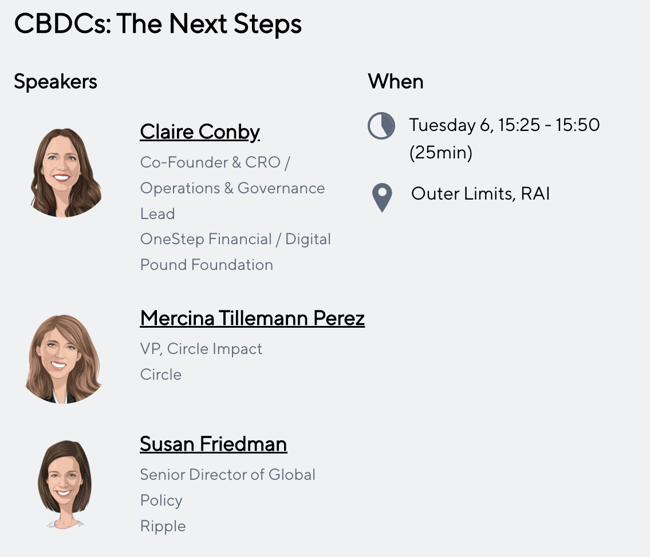 On 6th June, Swift will speak on how they are uniting the financial community to connect up CBDCs for cross-border payments.
Later that day, Ripple will share the stage with speakers from OneStep Financial and Circle to discuss the roadmap for CBDCs and answer burning questions, such as, whether they can coexist with stablecoins and how they can improve digital money in a way business and consumers recognise.
Money20/20 Connect
Money20/20 Connect is an AI-powered show companion app that will enhance networking opportunities for attendees.
With features such as direct messaging and a personalised agenda, the app enables seamless organisation of meetups and optimised time management.
It provides access to a continuously updated list of participants, helping visitors identify potential connections that can take their businesses to new heights.
Early On-site tickets for 2024
Money20/20 is introducing on-site ticket sales for next year's event.
Visitors will have the exclusive opportunity to purchase subsidized tickets for just €2,295 during the three-day show. Afterward, ticket sales will open at higher rates in September.
Conclusion
Money20/20 is an absolute must-attend for anyone in the fintech and payments industry.
By participating, you'll stay ahead of the rapidly evolving landscape while outpacing potential competitors. From finding potential clients to forging crucial connections, all with the goal of gaining that sought-after competitive edge the possibilities are enormous.
As media partners for Money20/20, we are delighted to offer our readers a €200 discount when buying tickets online, using our special code BTM200.