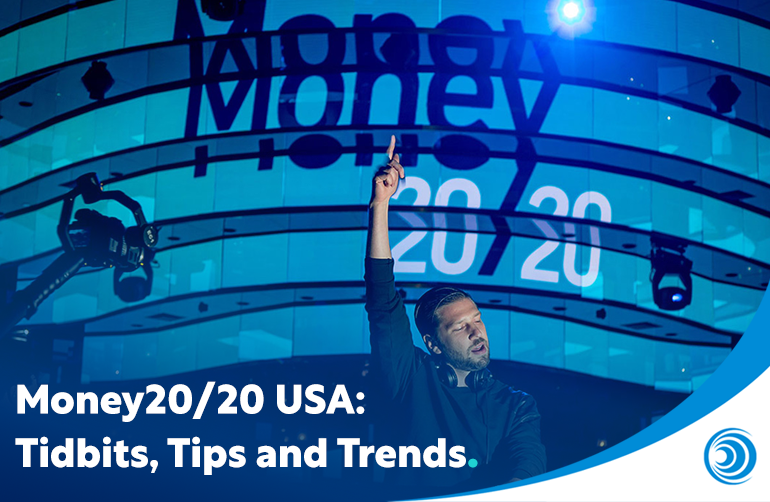 Money20/20 USA: Tidbits, Tips and Trends
The largest payments conference in the financial services sector is upon us once again!
Organisations specialising in fintech, payments and financial services are flocking to the gambling capital of the world, Las Vegas! To attend the biggest money expo of the year to pioneer the future of finance whilst raising awareness of upcoming trends expected for the industry.
The fact 13,000+ visitors from over 3,000 leading corporations are attending, demonstrates the scale and success of the event. Making it even more popular than the European counterpart, Money 20/20 Europe.
What is Money20/20 USA?
Money20/20 USA brings together flourishing enthusiasts and experienced industry experts to display the continuity of ideas from 2022, and showcases the new emerging trends with 60+ hours of critical content.
This global event consists of various engaging presentation styles, ranging from rants to panel discussions. Enlightening visitors on a wide spectrum of topics including innovative technological advancements in BaaS (Banking as Service) and Saas (Software as a Service), Cybersecurity and Cryptocurrency and the developing relationship with AI. Just a few of the themes and topics to be covered.
Under the unifying banner of payments, Money 20/20 provides a valuable opportunity to expand your professional network and generate meaningful connections into legitimate business prospects. As well as offering a glimpse into different facets of the industry through the newest start-ups and latest happenings.
What to expect on the agenda
With a four-day schedule, jam-packed with insightful content, it can be difficult to know where to start or what subjects are relevant to you. In this section, we provide a short guide on what to expect from the agenda.
The event falls under four key themes that explore the payment industry in detail as well as touching on wider ideas and information, such as the environment, human interaction with AI and the current economic climate. Demonstrated through the key topics of:
Trust/ Uncertainty
'Tech Renaissance'
Time to Build (Utility)
Age of Fundamentals
Trust/Uncertainty:
Current climate and uncertain future
This theme highlights the unknown circumstances around the future of the current economic climate and the accelerated rate of technological advancement. Focusing on implementing practical strategies to cope and adapt to the impending demand placed upon the financial sector.
The presentations, such as 'Never Waste a Crisis', take advantage of the need for innovative solutions that are implemented under pressure, and can create essential results for the future of regulation and technology.
Trust in people: cybercrime and security protection
With the rise of digital technology to streamline processes and improve the user experience, comes the increased risk of fraud and cybercrime. Consequently, the protection of assets has never been more pressing, so security solutions providers have to prepare and acclimate in a limited time to the ever-evolving problem.
The nature of humans behind screens in a virtual world presents challenges with trust and barriers to mass adoption.
Experts share insights into the minds of cyber criminals, covering topics such as Authorised Push Payments (APP) and AI fraud detection. 'Who is on the Hook for APP* Fraud' and 'Think like a Criminal to Beat a Criminal' are two of the panels that will be exploring these areas in greater detail.
The 'Tech Renaissance'
What is 'Tech Renaissance?
In definition, it's a metaphorical expression used to describe a period of rapid technological change that has the potential to reshape various aspects of human life. It is multifaceted, crossing and combining various sectors with breakthroughs and innovations ranging from crime prevention to re-writing regulation to streamlining internal processes.
Two of the most notable technological innovations have been API's and AIs. Emphasising the importance of human interaction and artificial intelligence. Even with the rapid progress made in the last year with this tech, the need for human monitoring is very prominent as it may not give the most accurate result or action.
Touched on in the presentation: 'Why AI needs Humans?' presented by Heidi Hunter (CPO at GBG Americas). This relationship will revolutionise the future of fintech and payments.
Time to Build (Utility):
This theme highlights practical solutions and ideals to be implemented for SMEs (small and medium enterprises). Focusing on engagement and building processes with cryptocurrency and blockchain along with CBDCs (Central Bank Digital Currencies) - improving accessibility and widening the fintech demographic.
The future of these solutions will be partly pioneered with the startups that do not have to adapt to changing times, by being born into it instead. This will allow digital payments to develop into different areas such as Africa and other parts of Asia.
Age of fundamentals:
This title is somewhat mysterious as it does not immediately reveal what ideas and concepts will be introduced. However, it is people-based because it focuses on behavioural design and the reshaping of fintech culture. With discussion and debates like 'Think in Advance, Prevent Human Suffering, and Create Resilient Businesses'.
Also, this section raises awareness of the role of fintech and the environment and what payments could do to go green.
Practical experience at Money 20/20 USA
As for the practical experience of Money 20/20 USA, with the introduction of the app - Money 20/20 Connect, prior knowledge of the key speakers, announcements and discounted tickets will enhance the attendee participation and satisfaction.
Money 20/20 Connect
Through the use of AI technology, Money 20/20 Connect allows tailored networking to see who you want to connect with.
Features such as direct messaging, in built time management for optimised organisation and an updated list of participants. Through filtering and other tools, accessibility is increased as users can also adjust what they want to view on the agenda, in various formats, like a timeline.
The app will be released mid-September to allow the optimum amount of time to start making the most out of the event.
Money 20/20 USA discount
As Media Partners to Money 20/20, Blue Train Marketing is pleased to offer a bespoke discount code on current ticket prices. We're excited to offer you the chance to save $250 on your tickets by using the code BLU250 at checkout.
Announcements and key speakers
The biggest announcements for the event play a principal role in shaping the future of the industry for the next year:
Uber announced Uber Money credit and debit cards
Amazon Pay launched Alexa Integration to Pay Bills
BitPay announced Bitcoin Checkout 'One-Tap' App
The key speakers accompanying this latest news are paramount in promoting fintech and making Money 20/20 USA the event it is. From a range of organisations across the world: the USA, Europe, South America and Asia. In alignment with Mastercard, Plaid, Citigroup, Astra, Wix and JP Morgan amongst many others.
Join the place where money does business
Money20/20 is an indispensable event for professionals in the fintech and payments sector. Attending this conference is essential for staying ahead in this rapidly evolving industry and staying ahead of potential competitors. You can expect numerous benefits, from identifying potential clients to establishing vital connections, all with the ultimate aim of gaining a competitive edge.