We are thrilled to be an official media partner for Money 20/20 USA 2023.
Taking place on October 22-25, this event covers everything from payments and banking to cryptocurrencies and financial services.
Money20/20 USA is the world's biggest, most influential gathering of the global money ecosystem.
With over 13,000+ attendees from 3,000+ companies, this is the only place where the entire money community including banks, payments, tech, start-ups, retail, fintech, financial services, policy, and more come together to make the decisions that shape the industry. From in-depth learnings to epic networking events to inspirational speakers, leaders, maximise your business's ROI by joining us.
Benefits of Collaboration

.
Attending Money20/20 USA offers a unique and valuable experience, excellent networking opportunities with industry leaders, insights into cutting-edge trends and strategies, and a diverse range of sessions covering payments, banking, fintech, and more.
Engage with thought leaders, discover innovative products and services, and explore potential collaborations that could elevate your business. With workshops to enhance your skills and a platform to gain inspiration and fresh ideas, Money20/20 USA offers you the opportunity to stay ahead in the dynamic world of finance and technology.
Blue Train Marketing will be attending this year's event. If you'd like to grab a coffee and chat about how we can help you with your marketing needs, book a meeting.
Don't get left behind, get your pass now and use code BLU250 to save an extra $250!
What to expect from Money20/20 USA

.
Check out our insights from this year's Money20/20 Europe, where we examine the key takeaways from the event to provide an overview of how the industry is shaping up.
Take your business' ROI to the next level

.
With cutting-edge speakers, innovative learnings & networking opportunities, Money20/20 USA is the place to be!
Claim your $250 discount by using the code BLU250.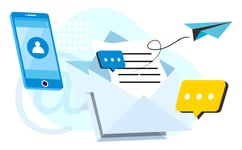 Want to become a partner

?
Get in touch with our team below.