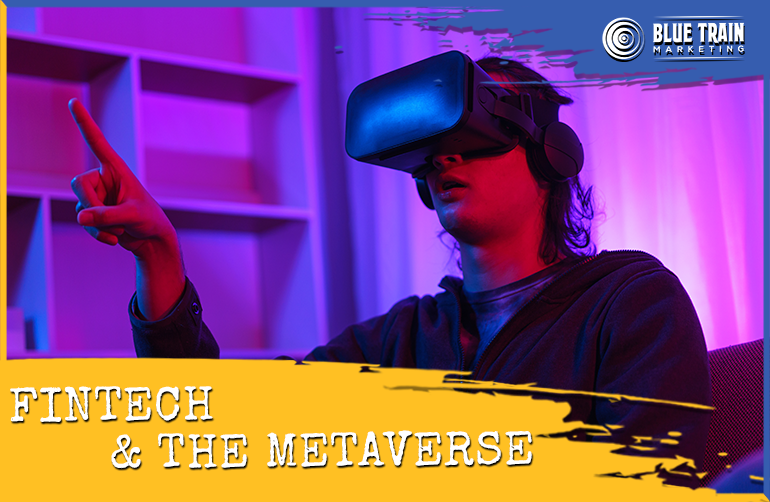 Fintech & The Metaverse
It's the biggest buzzword in the world right now – but what actually is 'the metaverse'?
In the fintech and payments industry, we know some big names are already making moves into the metaverse, so it must be serious.
So, let's take a dive into the topic we've all heard so much about, but has left many of us still trying to grasp what it truly means.
The question is, do you need to take the metaverse seriously yet?
What is the metaverse?
We know you've heard of the metaverse, but let's dive into what it is and where it came from.
"The metaverse is a virtual-reality space in which users can interact with a computer-generated environment and other users"
(Oxford Languages)
The virtual space allows people to connect with other users, buy and sell digital assets such as NFTs (more on those later), take trips to digital locations, and other interesting activities.
Although the metaverse is the buzzword of the year (and possibly for the next few years), it can be traced back to the early 90s.
In 1992, science-fiction author Neal Stephenson coined the term in his novel 'Snow Crash'. Little did Neal know that 30 years later he'd be partnering with cryptocurrency enthusiast, Peter Vessenes, on creating a metaverse-focused blockchain called Lamina1.

Metaverse adoption is rapidly increasing across the globe, with predictions of it becoming an $800 billion market. As of 2022, there are 1.07 billion metaverse users worldwide.
If you've been secretly trying to figure out what the metaverse is, you are not alone.
According to the Google Trends analytic hub, there has been a huge spike in people searching for information about the metaverse since the beginning of 2020.

In a public survey, 92% of respondents said that they believed metaverse development was accelerated by Covid and the lack of face-to-face human interaction.
An example of the metaverse in action
Gaming is a key aspect of the metaverse.
An early example of the metaverse is Second Life, an online world that allows users to create digital avatars to explore the world, interact with other users, and even trade goods and services using its 'in-world' currency.
Launched in 2003 and still going strong, Second Life paved the way for the metaverse.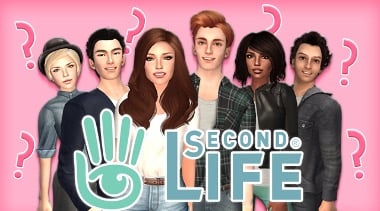 Young people are joining the metaverse through channels such as the hit game Fortnite.
Fortnite is getting Gen Z involved with the metaverse by partnering with celebrities to perform virtual concerts. The likes of Ariana Grande and Travis Scott have staged concerts within the game.
As with many new forms of technology, it seems as though today's youth will be the first metaverse natives.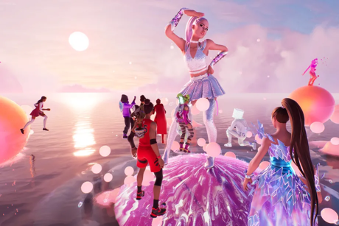 Fintechs and the metaverse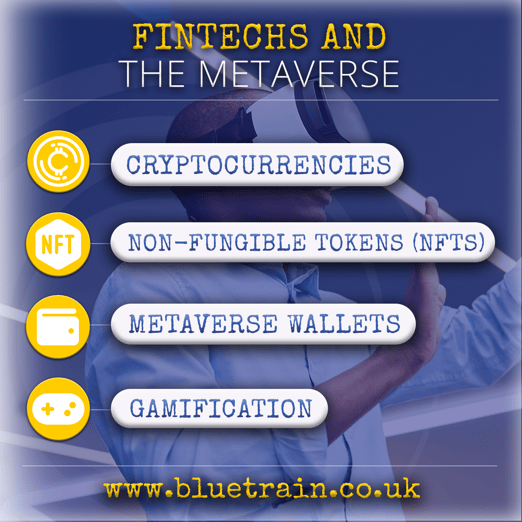 Fintechs and those in the payments industry are growing increasingly aware of the metaverse and its potential.
Fintechs and payments schemes are already developing technology that supports the growth of the metaverse.
Cryptocurrencies
With cryptocurrencies set to become the de-facto payment method for buying and sell things in the metaverse, users are also increasingly becoming comfortable with ways of acquiring, handling, and storing it.
Axie Infinity (AXS) is currently the biggest metaverse cryptocurrency that has already attracted more than three million active players on the platform.
Banks, fintechs, and other existing financial institutions will have to up the ante on facilitating cryptocurrency or blockchain-derived financial models to cater for what could be an explosion of new use cases in the metaverse.
The likes of PayPal and Mastercard are ahead of the curve and are now fully engaging with cryptocurrency. Both companies have said that it is clear to them that crypto will play an imperative role in the future of payments and the metaverse.
Non-Fungible Tokens (NFTs)
A non-fungible token (NFT) is a cryptographic asset on a blockchain with unique identification codes and metadata that distinguish them from each other. The ownership of a NFT is recorded in the blockchain and can be transferred by the owner, allowing NFTs to be sold and traded.
While NFTs are commonly known for digital art, it is a common misconception that this is all they are. There are many other use cases for NFTs such as music, fashion, event tickets, and real estate.
NFTs are a vital element of the metaverse economy. They are necessary for the metaverse to survive and for its users to interact with other metaverse societies.
Meta, Facebook's parent company, is planning on rolling out access to digital collectibles for its three billion users. They say that these efforts are vital to its goal of building and monetising a virtual world over the next decade.
Metaverse wallets
A metaverse wallet works similarly to any other digital wallet, the wallet allows you to perform transactions securely and store assets.
These wallets can be used to buy and sell products in the metaverse, like NFTs or virtual real-estate. They can also be used for receiving or transferring tokens between users.
After The Facebook Company rebranded with Meta as its new name, Mark Zuckerberg launched 'Meta Pay'.
Meta Pay allows users to shop, send money, and donate to causes they care about via Facebook, Instagram, WhatsApp, and Messenger. This wallet will also allow you to securely manage your identity, what you own, and how you pay in the metaverse.
Gamification
Gamification is the concept of taking a process, product or solution and helping customers engage with it by incorporating game elements and mechanics. The process generally involves setting objectives, monitoring progress, and completing tasks to unlock rewards; typically cash incentives, bonuses, and gifts.
It's popular in the metaverse and fintechs have already been using similar tactics.
When expanding to Europe, Revolut organised a competition between universities which encouraged students to register and boost their university to the top of the rankings. By the end of the campaign, over 100 universities and 1000s of students had signed up.
Gamification finance apps generally use a PLB System (points, leader boards, badges) as an incentive to get customers to complete certain actions, for example save a certain amount of money.
Gamification is surging in popularity, with the market set to rise to over $30 billion by 2025.
Are you ready for the metaverse?
The metaverse is still in its early stages of development and is evolving constantly, but there could be benefits of thinking ahead and factoring the metaverse into your marketing strategy.
New business opportunities
It is set to provide great opportunities for businesses, such as marketing and advertising on the platform.
The metaverse offers a unique experience for promoting and consuming services using marketing strategies such as visual storefronts, curated shows, and interactive customer services.
This level of interaction could be far more appealing and life-like than what is currently possible electronically, such as video conferencing. If there was to be another global pandemic, networking using metaverse technology could see a massive surge in popularity, just like Zoom did during the initial lockdown.
Immersive experience
The metaverse almost allows for a 3D way of viewing the internet and content.
It enables you to see, hold and even feel products using haptic technology (an experience of touch by applying forces, vibrations, or motions to the user).
It is forecasted that the market for haptic technology will be worth $28 billion dollars by 2026.
The virtual world allows users to experience it in the most immersive way possible. Consumers can exercise, socialise, play games, and attend events in a virtual environment.
Even now before mass adoption is reached, the metaverse allows businesses to bridge the gap between the physical and virtual world, bringing the hybrid events format to a whole new level.
Businesses can participate in online events by creating a virtual booth that attendees can walk up to in the metaverse, the same way they would in-person.
With customer experience being at top of mind for many marketers, hosting brand or product launch events within the metaverse provides the opportunity to produce more creative and unique experiences for their customers in a far more cost-efficient way than hiring venues and all the production elements that are needed to stage events in the real world.
Positive use cases for cryptocurrencies and NFTs
Cryptocurrency and NFTs play a huge role in the metaverse through blockchain technology; helping create security, trust, and transparency. These are crucial aspects of the metaverse, and users will become more comfortable in using cryptocurrency and NFTs, encouraging further growth and mass adoption.
But take care in the metaverse
Like many things, the metaverse does come with its issues…
Privacy, security, and cybercrime
The metaverse is still a relatively new concept so it hasn't developed the sophisticated cyber security levels, making it susceptible to illegal activities, such as fraud, money laundering, and cyber-crime.
Cases of cybercriminals using phishing links that imitate legitimate metaverse platforms to drain investors' digital wallets have begun to emerge.
Due to its decentralised nature, governments don't have the power to fight and counter cybercrime in the metaverse.
Disassociation with the real world
A common concern regarding the metaverse is its possible effect on the end user.
Users that are overly exposed to the metaverse may be at risk of losing their attachment and disassociate with reality.
People are already voicing their concerns on the sociological impact that it may have.
Similarly, this trend has been seen with the use of mobile phones, with users having an average screen time of 5.4 hours a day.
Imagine what it will be like when the metaverse becomes mainstream.
There is already speculation that the metaverse is blurring the lines between virtual reality and real life.
On the hit game Roblox a digital version of the Gucci Dionysus bag was sold on Roblox Marketplace for $4,115 – three times the value of the physical bag. Perhaps the disassociation with the real world has already begun?
Technical issues
The metaverse requires a fast and reliable internet connection to make the virtual world seamless. This must include fibre-based connect and 5G technology.
Like financial exclusion, this could lead to metaverse exclusion of those who cannot access the metaverse, meaning some people and communities may not be able to enjoy its benefits. This problem is likely to grow as the metaverse becomes more integral to mainstream life.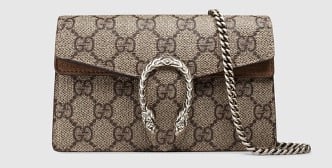 Conclusion
The metaverse is an exciting new virtual world that fintechs, and many other industries, are beginning to adopt as part of their marketing and business development strategies.
From cryptocurrency to digital wallets, fintechs are set to become huge players in the realm of the metaverse.
There are several key benefits to metaverse adoption, but with every great new concept it comes with risks and disadvantages.
Blue Train Marketing is a marketing agency specialising in fintech and payments. From copywriting to events marketing, we expertly assist our clients to develop marketing strategies and tactics that work in the real and digital realms. Feel free to get in touch and let's discuss how we can help your business.